The Erasmus experience is a unique and unforgettable adventure that transforms the students who live it, enriching their learning and their life.
TAMBIÉN ABIERTO PARA EL RESTO DE ESTUDIANTES UVA !!!!!!
During the Erasmus experience, people are very receptive to the culture of the country chosen for the stay. The experience can be much richer if you enjoy all the tradition of the land you visit.
Spain is a country where gastronomy, language, music, entertainment, art and traditions are known worldwide. The students who choose our country want to find and experience this.
Valladolid, in particular, is a very renovated and vital city, in which all these factors come together in a unique way. Dance is in all cultures of all times and represents the feelings of its people, tradition, expression and fun.
Is there any better way to enrich the Erasmus experience in Spain and Valladolid than enjoying Spanish Dance?
At the Aula de Danza UVa there is a special space dedicated to you Erasmus. We offer you classes in which you will learn the fundamentals of Flamenco and some of our oldest, most picturesque and representative dances of Folklore.
These classes can be a space for interaction with other Erasmus, a place for friendship, group work and cultural exchange.
The purpose is crystal clear:
On your return you will take with you a piece of our culture and you will be magnificent UVa ambassadors.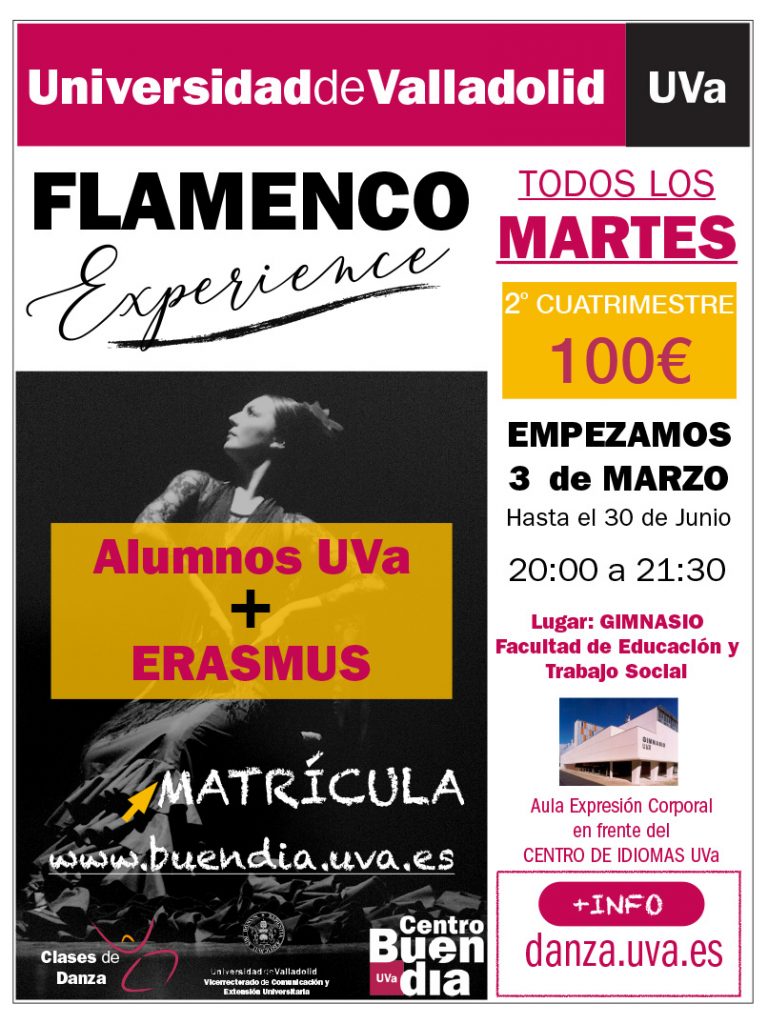 Puedes experimentar el Flamenco en la Universidad de Valladolid con la profesora Elysa López. Para Erasmus y para estudiantes de la UVa.
You can experience Flamenco at the University of Valladolid with professor Elisa López.
If you are interested the classes will start in 20th October 2022. The fees will be 75€ for this first semester (1h 15min per week). Matriculation will be in «Centro Buendía«.
HOW CAN I MATRICULATE IN ERASMUS EXPERIENCE?
1. ENTER >> www.buendia.uva.es
3. Follow instructions on the right hand side
If you want info or you are interested send us an email:
aula.danza@uva.es